Tennis Forehand Stroke: Improve Your First Move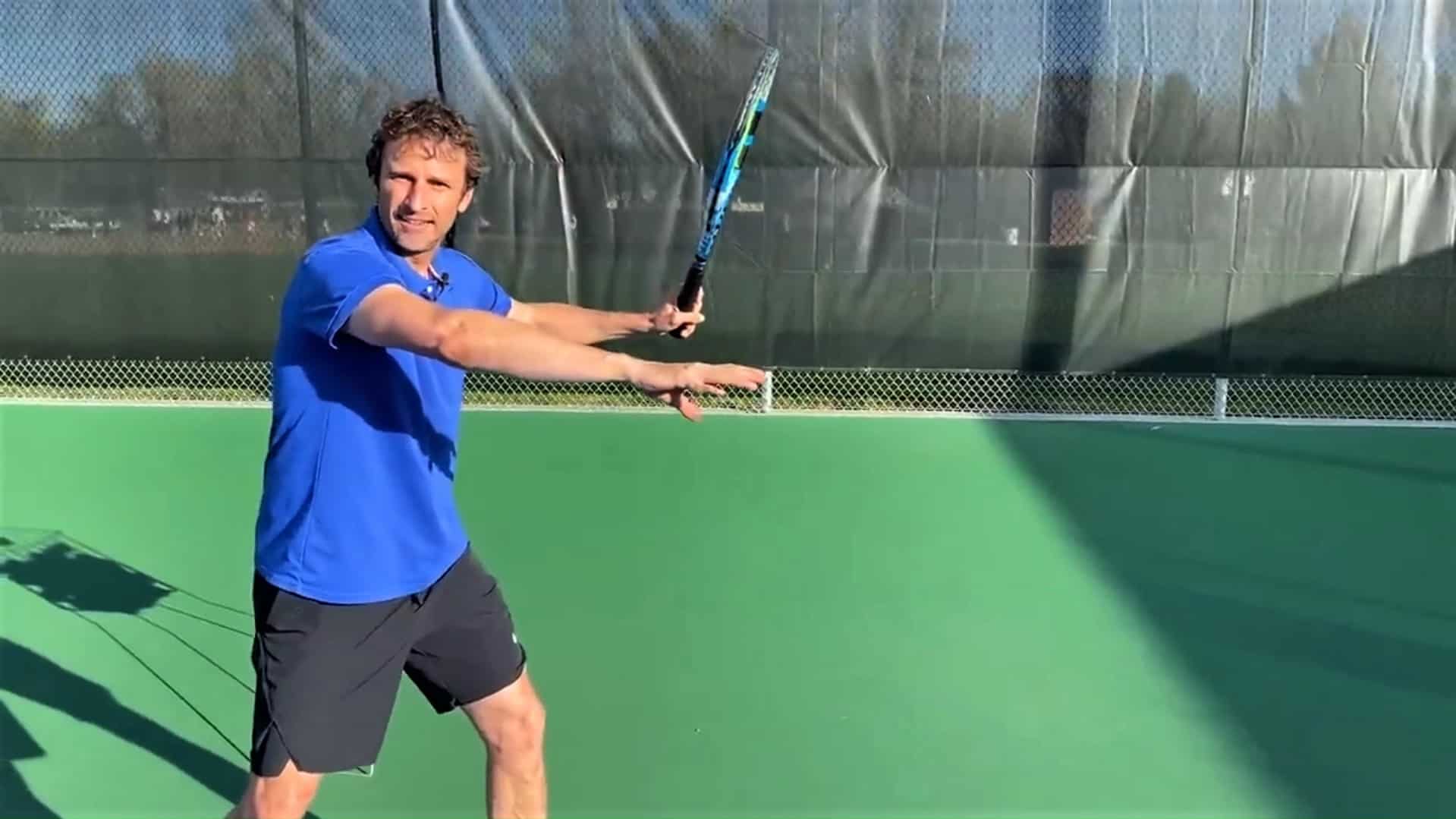 Are you looking to improve your tennis forehand stroke? In this tennis article, I will explain one of the core elements to get more topspin on your tennis forehand like the top tennis players in the world.
As a coach, I am always looking for ways to help my players improve as quickly as possible. I also look at what might work for each individual student. There is an art and a science to help each player and what works for one player might not work for another.
Some players and even coaches are locked into just one way of making the first move on the tennis forehand. However, I feel like you can do things a different way if it feels right for you. Hence, I will describe two options that you can use for performing a proper first move to hit a better tennis forehand.
Let us get started,
Forehand: First Move Technique
Many players keep their elbow pretty close to their body when they make their first move. Therefore, they lose the ability to create momentum and acceleration on their tennis forehand stroke.
To rapidly fix this problem, I get them to practice the conventional first move which involves the following two aspects.  First, having the racquet tip up. Second, keeping the arms bent and relaxed while holding a semi western or eastern forehand grip.
When you practice your tennis forehand, focus on getting your elbow away from the body during the first move. When you keep the elbow away from the body, your racquet strings will be closed. Thus, you can really accelerate to the ball at contact and get more power on your tennis forehand.
Forehand: First Move Modified Technique
Now, there is actually a different way to do your first move on your tennis forehand stroke. For instance, some professional tennis players make their first move with the racquet tip lower because it is more efficient for them. If you opt to try this, your topspin and flat forehand will have the three following characteristics:  
First, your strings will be facing towards the ground more. Second, your elbow will come out more in the preparation phase. Third, your swing will become more compact. As a result, you will create more lag and generate effortless racquet head acceleration when you swing at the ball.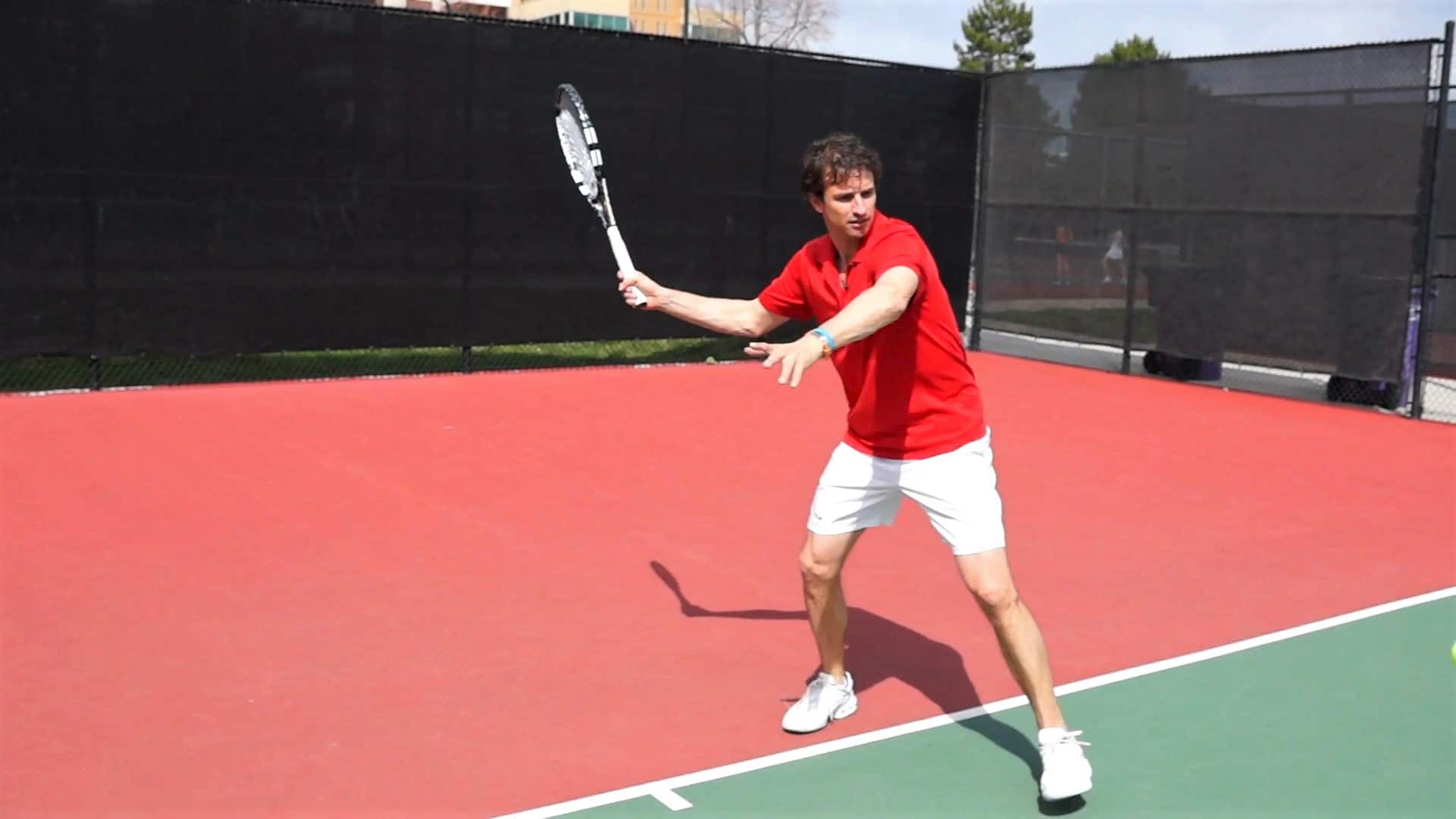 To recap, there are two different ways to perform a great first move for building a perfect tennis forehand technique.  First, you can focus on getting your elbow away from the body to create proper spacing and load up your racquet. Consequently, you can accelerate into the ball and hit better topspin and flat tennis forehands.
On the other hand, you can consider making a lower first move by ensuring to create space and keep your racquet strings closed. I like this way of doing it as well, both ways can work, you just need to do what works for you. Keep in mind to avoid turning sideways on your tennis forehand stroke when practicing your first move.
I hope you enjoy learning about the importance of the first move for building a perfect tennis forehand technique. Next time you go to the tennis court, consider trying both options to instantly start hitting better tennis forehands.
By Jeff Salzenstein, Founder Tennis Evolution
Jeff is a former top 100 ATP player and USTA high performance coach committed to helping players and coaches all over the world improve.
P.S Want to take your topspin forehand to the next level? Discover the 3 deadly myths that could be killing your tennis forehand potential, click here to get instant access.