What would it look like to just have the right amount of leg drive on your tennis serve? Well, in this article I'll go over the leg drive, one of the serve areas where most tennis players struggle.  
There are many coaches who just tell their players to use the legs and bend the knees more. However, I consider that this can cause issues and distract tennis players from mastering the serve fundamentals. 
For instance, they may lack shoulder turn or get the elbow in the wrong place. Hence, you should focus on what your upper body is doing instead of being only concerned about the leg drive. Simply ensure to have great rhythm on your tennis serve and worry less about your lower body. 
When I'm warming up, I just focus on having a smooth swing and a slight leg drive. I want to point out some of the common serve mistakes that I see being made out there. Consequently, I can explain how to get proper leg drive on your tennis serve.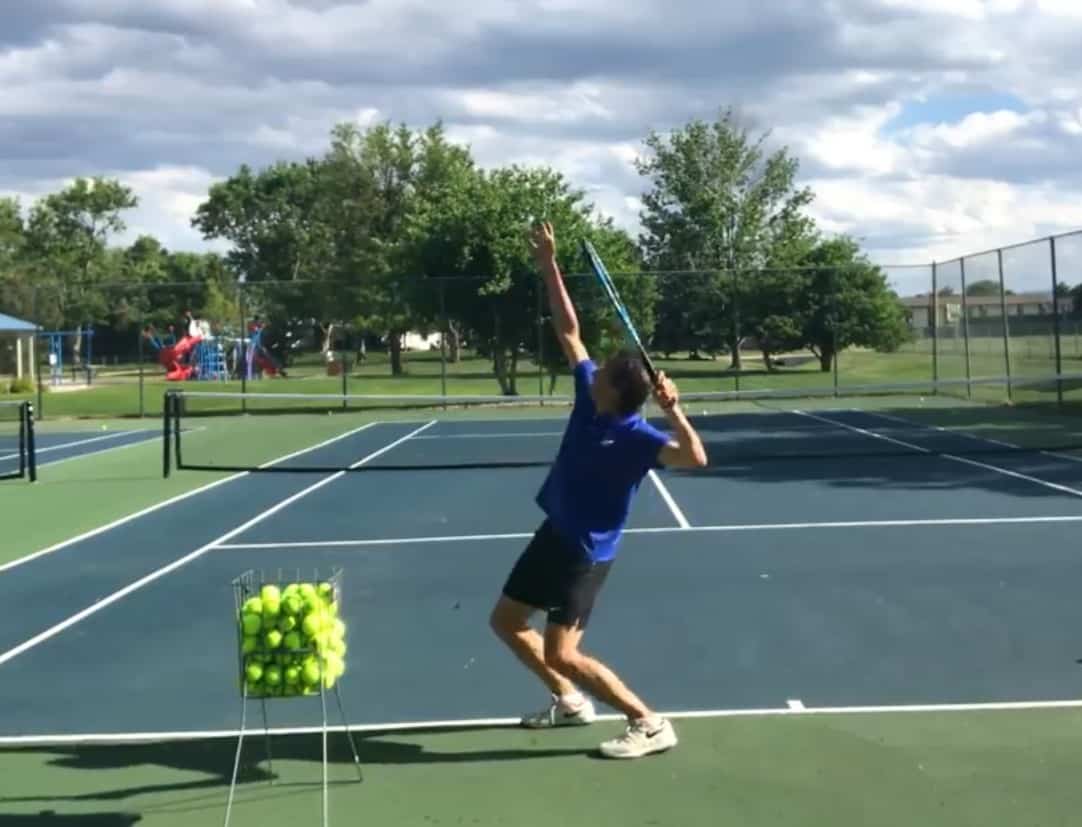 I find that when players get into a pinpoint stance, they might only be able to really push off their front leg and have less weight on their back foot. Therefore, I suggest getting into a platform stance. It will enable you to have the weight a little more equally distributed between the front foot and the back foot. Then, you want to essentially get to your trophy position.
When it comes to the leg drive, you want to feel like you're able to drive off of both legs. Now, there will be a little more weight on the front foot, when you go to push off. Nevertheless, I see many players who just shift their weight forward and lose all of the weight on their back leg. At the end of the day power comes from the ground; thus, you definity want to use it appropriately.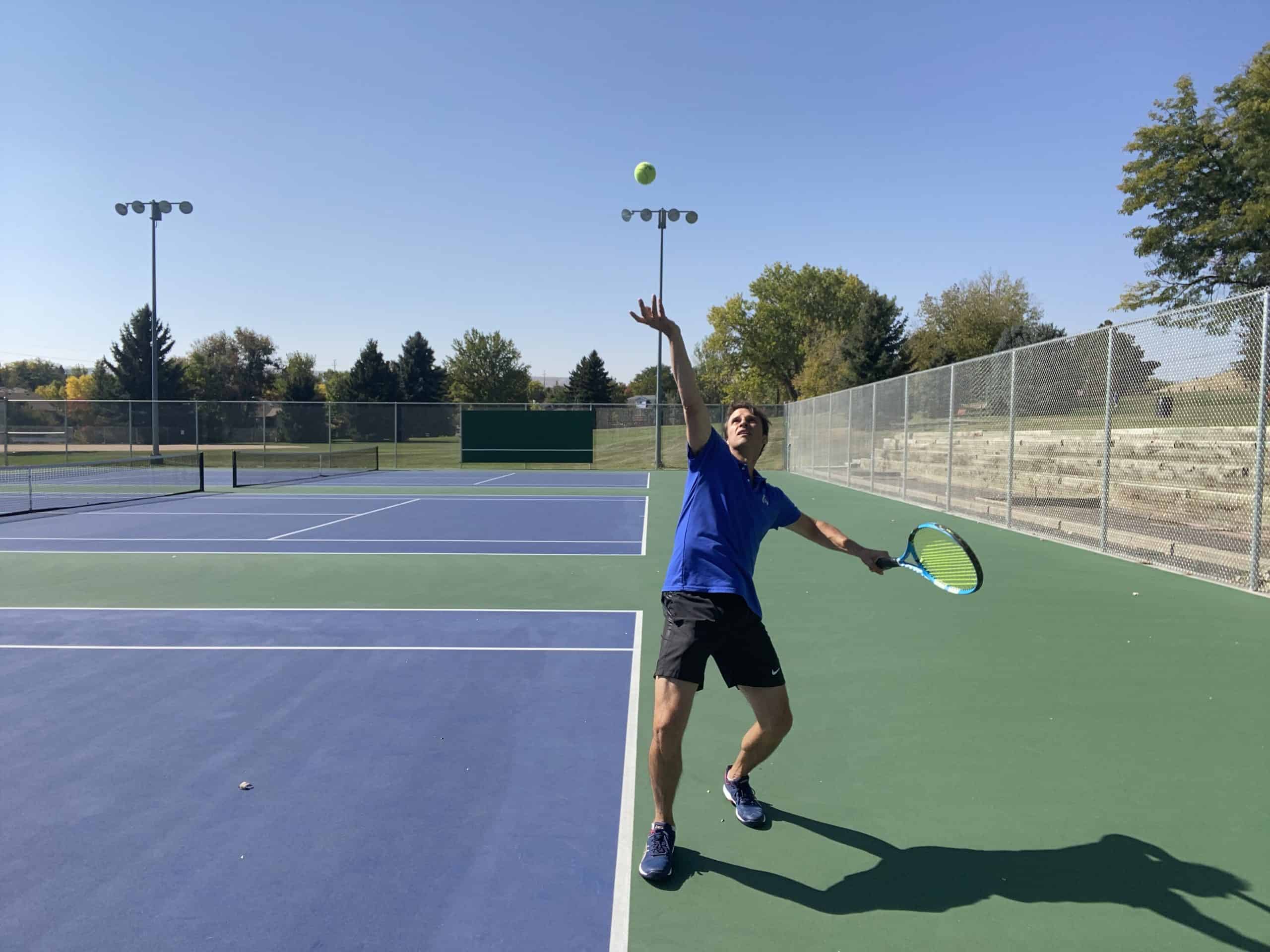 Next, I want you to properly turn your hips and shoulders during the first move. Consequently, you avoid getting into a squatting position and having a big curve in the low back. 
One way to do it is learning how to turn the hips and slightly push forward into the front hip. This is what I call "tucking the tail". I feel it happens naturally, when you just get the right amount of weight on the front foot and ensure that your hips and shoulders turn correctly. In fact, that's how Roger Federer turns his shoulders on the serve.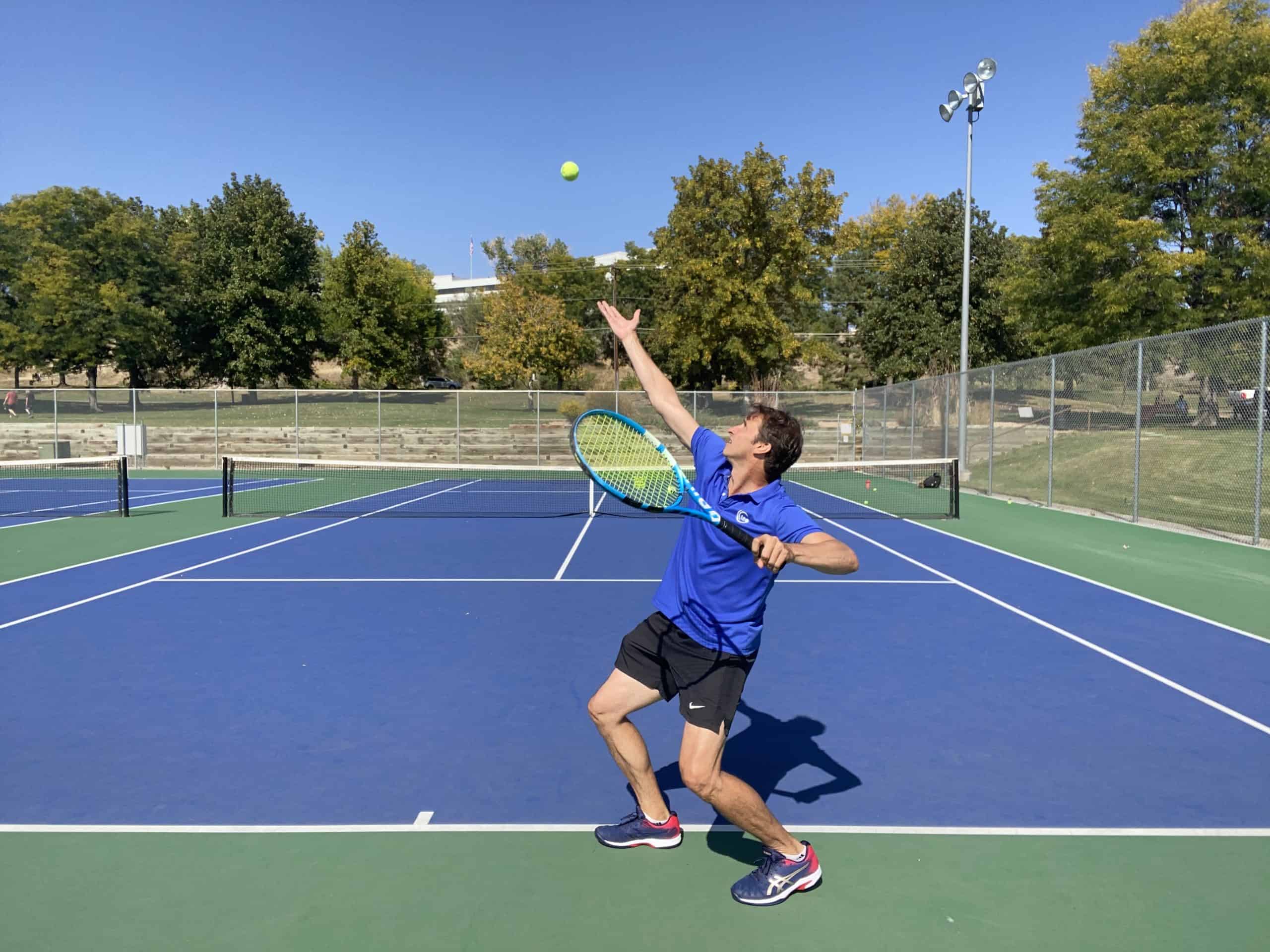 I've seen and coached many players who have an excessive amount of knee bent on their serve. Thus, they get into a squatting position and lose a lot of power on their tennis serve. If you think of a vertical jump, you'll go down and up pretty quick. The problem that I see with many players is when their toss is really high, they stay down for too long.  
You should be able to generate great power without a lot of leg drive by having a loose hand and arm. To summarize, focus on getting your upper body to work correctly, getting the rhythm, the tempo, and the shoulder turn. Second, I advise that you get into a platform stance to push off both legs. Third, stop squatting on your tennis serve. Instead, get a nice hip turn, so that you can push your front hip out over the line. Finally, get the toss in the right place to fire up to the ball precisely and avoid bending your knees too much. 
By Jeff Salzenstein, Founder Tennis Evolution |
Jeff is a former top 100 ATP player and USTA high performance coach committed to helping players and coaches all over the world improve.
P.S. – Ready to take it to the next level with your tennis? Click here to get a free membership which includes 21 lessons covering all aspects  of your tennis ($567 value). Learn the exact step-by-step system that has transformed the games of thousands. of players worldwide.