Tennis Forehand Grip: Where To Place The Index Finger
If you want to accelerate your tennis learning and play like a pro, you've got to master the fundamentals. Today, I'll share a powerful tip on one of them, the tennis forehand grip. This is an essential element to get more power on your forehand and turn it into a weapon on your game. 
In all of my years of coaching, I've come across many players who hold their tennis racquet incorrectly. This highly surprises me because I always give priority to the tennis forehand grip when teaching the stroke. For instance, I've seen tennis players holding the racquet with their fingers close together, which creates extra tension on your forehand. 
I consider this a big problem that can directly hinder your ability to hit amazing tennis forehands. However, you can easily fix it by practicing the simple forehand tip that I will explain in this article. 
Let's get into it now.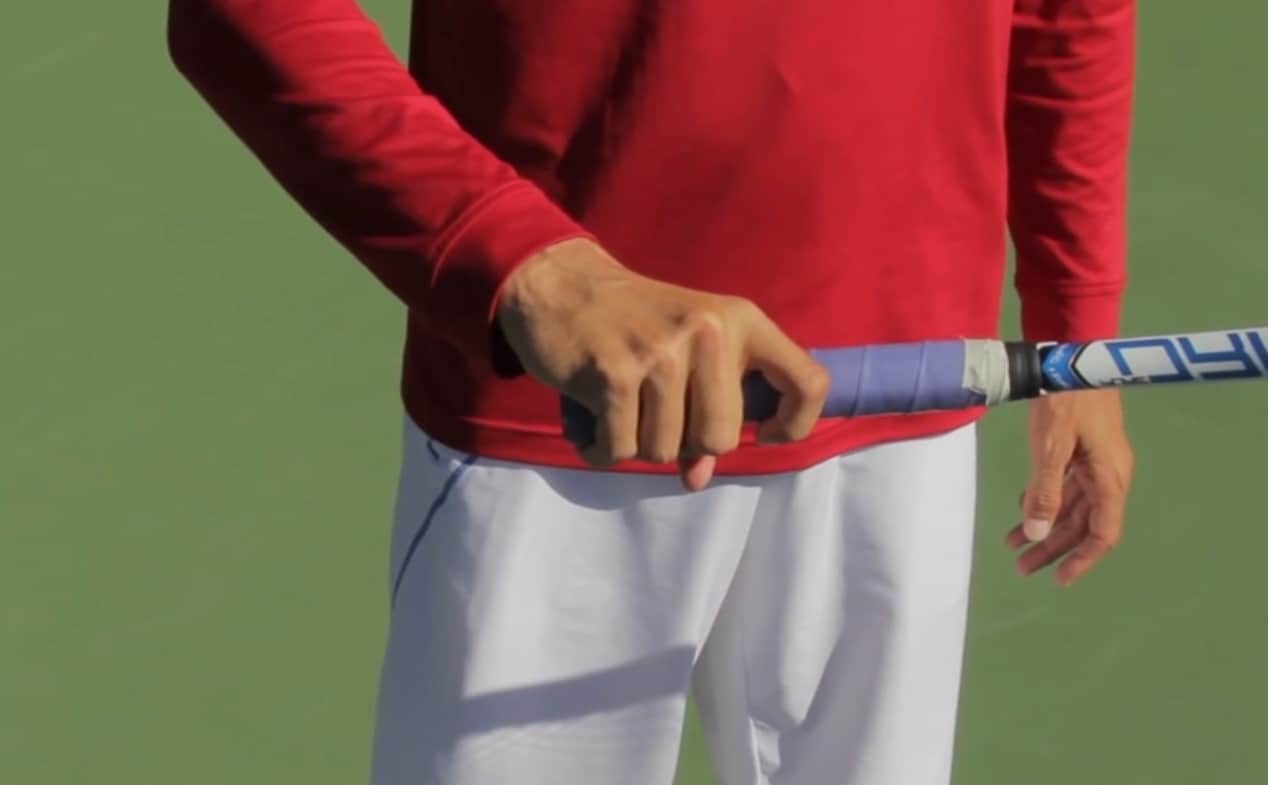 To get the right tennis forehand grip, I suggest spreading the index finder, which I call the "trigger finger". Likewise, you've got to make sure that your hand is angled on the racquet and avoid holding it with a block grip. By doing this, you'll immediately reduce tension, swing freely, and start hitting lightning bolt tennis forehands. 
Moreover, you'll develop more feel as you make contact with the ball. Tennis is a game of feel; hence, it's important to work on this area in all your strokes. On the tennis forehand, you'll be able to achieve this by holding the racquet correctly with the index finger spread. 
Let's recap. Focus on getting a proper tennis forehand grip by spreading your index finger and having your hand angled on the racquet. When you swing, concentrate on developing feel with the ball while making contact. Finally, remind yourself to breath and relax your hand throughout the shot to get that easy power on the forehand. 
Give this tennis tip a go, and feel how it helps your forehand go to a completely new level. 
By Jeff Salzenstein, Founder Tennis Evolution
Jeff is a former top 100 ATP player and USTA high performance coach committed to helping players and coaches all over the world improve.
P.S. – Ready to take it to the next level with your tennis? Click here to get a free membership (no credit card required) which includes 21 lessons covering all aspects of your tennis ($567 value). Learn the exact step-by-step system that has transformed the games of thousands. of players worldwide.