Would you like to learn a simple serve drill to get more kick or topspin?. In this article, I'm going to give you that drill and I really think you're gonna love it. I'm committed to helping players all over the world, regardless of their level, improve their performance on the court. Therefore, they can compete at a higher level than where they're at right now.
It's all about giving you the right information and sharing with you the tangible tips and drills that actually work. If you can learn a skill in a simple, easy way, then you can progress to the next level. I like to teach in mini progressions, and the half serve drill is perfect to improve your tennis topspin serve.
One of the big problems that players have with their kick serve is having an inefficient service motion. When they start with a full motion, a lot of weird things start to happen and their rhythm breaks down. This is where the half serve drill comes into play, because it can help you to eliminate plenty of variables.
Now, let me explain to you how to practice the half serve drill correctly.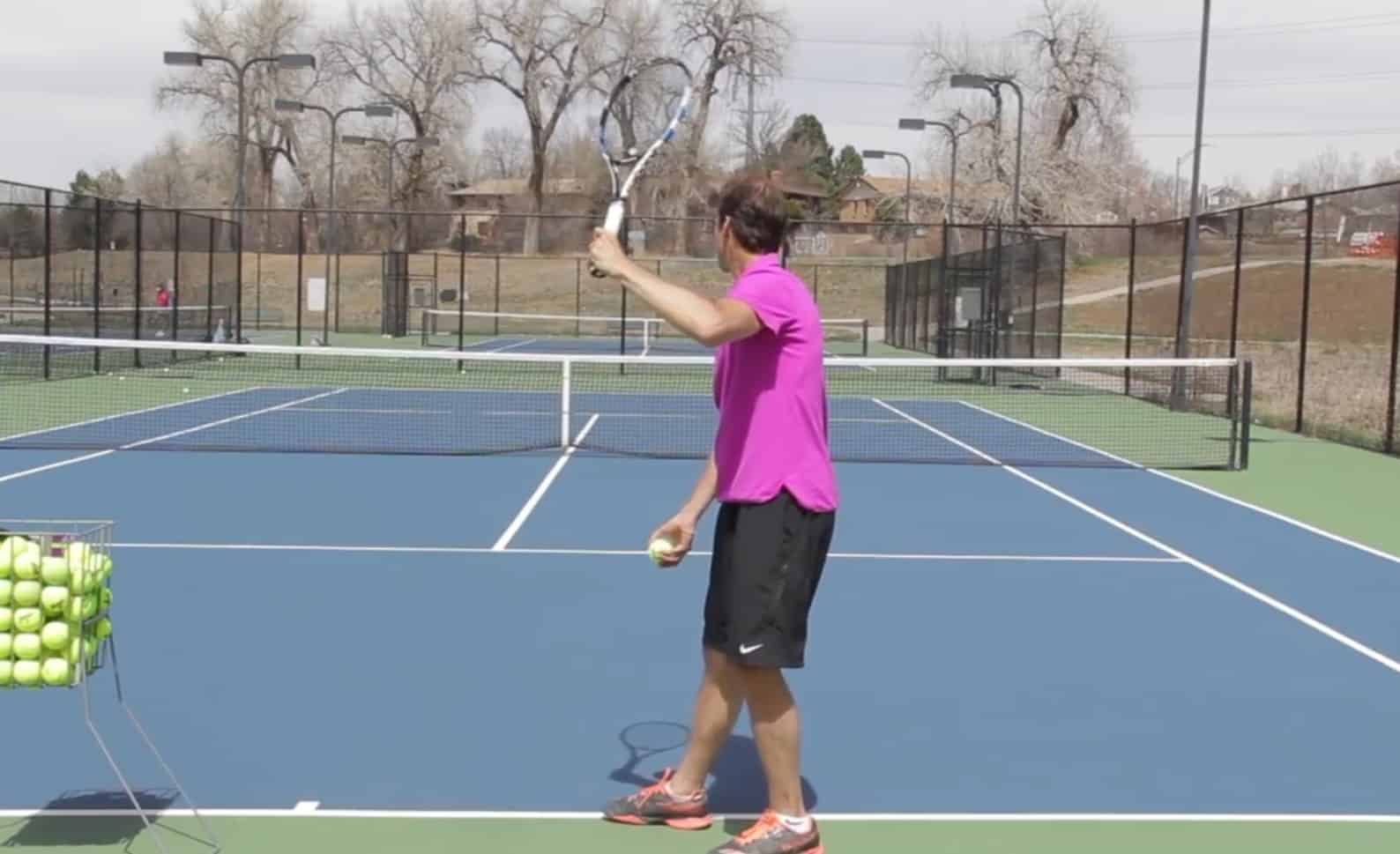 For the half serve drill, you're going to use a platform stance, the best stance for the kick serve. Besides, you'll start with the racket up and avoid scratching your back from this position. Why is it bad, or inefficient to start here? I believe you'll lose rhythm, timing and flow on your serve because only the hand will work.
I still want players to turn their shoulders during the first move. In fact, when you toss the ball, then you can practice turning and get into a modified trophy position. Hence, you can find the topspin serve from there, which is what you want. This is a really important detail, that's why I like to make it clear from the beginning.
When you start in the right position, your hand will be pretty close to your head and more relaxed. Keep your palm down and racket tip facing towards the net. I've seen many players who struggle to find this position because they hold the racquet with a tight wrist. Indeed, there's too much distance between the hand and head on the trophy position.
The ¾ Serve Position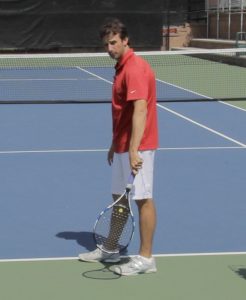 You can easily fix this issue by following the instructions aforementioned and practicing continuously the half serve drill. It'll help you to understand how the arm and the body works. Hence, you can generate massive topspin on your kick serve. Once you get that down, you can add the legs to the equation. Afterwards, you can  start moving your racket down to what I call  the " ¾  position", and then the full position.
I highly encourage you to add the half serve drill into your serve training routine. I've studied the best servers in the world over the last two decades. Then, I've come up with tennis tips, drills and progressions to help players improve fast. This kick serve drill is absolutely huge, so I hope you enjoyed this breakdown on how to efficiently practice it.
By Jeff Salzenstein, Founder Tennis Evolution
Jeff is a former top 100 ATP player and USTA high performance coach committed to helping players and coaches all over the world improve.
P.S. – Ready to take it to the next level with your tennis? Click here to get a free membership (no credit card required)  which includes 21 lessons covering all aspects of your tennis ($567 value). Learn the exact step-by-step system that has transformed the games of thousands of players worldwide.